Alcohol and Painkillers Opioids: What happens when you combine them? – British Columbia and Alberta – Options Okanagan Treatment Centers in Kelowna, British Columbia treating drug, opiate, fentanyl, heroin and alcohol addiction and recovery.
What happens when individuals combine painkillers (opioids) and alcohol?
If your alcohol intake is lower than the recommended limit and if the painkiller medication isn't too strong, then it can be relatively safe to take the 2 together. The following discussion focuses on the body's reaction when both substances are taken at the same time.
Pharmaceutical companies define painkillers in 2 classes: over-the-counter and prescription-only. One widely held misconception is that over-the-counter painkillers are always safe for consumption. However, the reality is that they can be quite dangerous when taken with alcohol. To protect yourself, you need to read the product information provided on the label of the medication.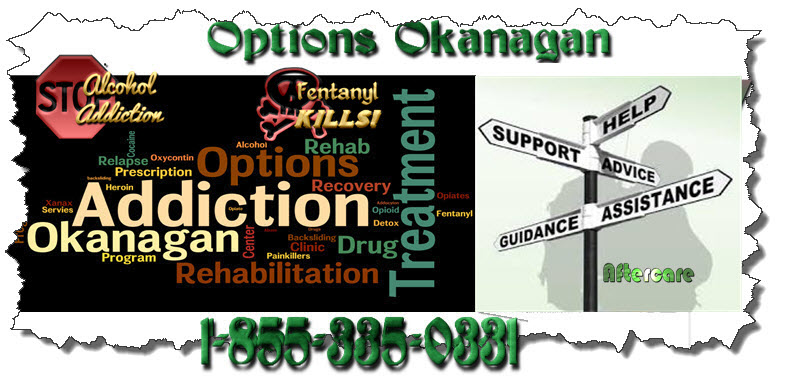 Manufacturers of the over-the-counter painkillers state explicitly whether or not they are safe to take with alcohol. Even so, it is not advisable to consumer alcohol and then take such medications under any circumstances.
Is It Possible to Take Painkillers Safely After Taking Alcohol?
It is highly advisable to avoid taking alcohol if you are taking prescription painkillers or any strong dose of the medications. Speak to either your health care provider or pharmacist or check the information provided with the medication in as far as over-the-counter painkillers are concerned. Never exceed the amount of alcohol noted in the literature and always take the medicine in the proper dosage as listed on the label.
Effects of Combining Painkillers and Alcohol
The effects generally vary depending on the type of painkiller that you are taking as well as the amount of alcohol that you have consumed. Both substances act as depressants and affect the nervous system, which means that it is not advisable to take them at the same time. Using the two in combination causes both the nervous system and respiratory system to slow down and relax. When your breathing slows, the amount of oxygen that enters your body reduces. Secondly, both substances affect the digestive system organs, and in particular the liver.

Anti-Convulsant Drugs and Alcohol
Anti-convulsant drugs are designed to calm the neurons found in the nervous system. The painkillers are regularly used to stabilize moods. While anti-convulsant drugs are usually prescribed to treat seizure disorders, they can cause the occurrence of seizures when they are combined with alcohol. Symptoms usually occur immediately and are easily noticeable. They include drowsiness that quickly descend into the extreme as well as lightheadedness.
Opioids and Alcohol – Alberta and BC Opiate Rehab Programs
People that take alcohol while taking opioids of any form are at a very high risk of dying. Severe dizziness and breathing problems usually occur that can lead to cardiac arrest. In such instances, there's an urgent need for medical attention.
Over-The-Counter Drugs and Alcohol
Painkillers sold over the counter don't actually pose any danger to humans as previously stated. However, even though breathing can slow down over the short-term, the long-term side effects of the drugs often lead to ulcers and extensive liver damage.
Anti-Depressants and Alcohol
The human body faces great risk when a person takes anti-depressants at the same time as alcohol. When the two are combined, there's a strong risk of overdosing and suicidal thoughts can start manifesting themselves.
The combination of alcohol consumption and painkillers is a somewhat risky business. If a person suffers from alcoholism, it can affect the way medications work in the body. While it might seem safe to use them both in combination since no problems emerge immediately, the risk of long-term damage to the body is always there.
Options Okanagan Opiate and Alcohol Treatment Centers in Kelowna, Salmon Arm and Vancouver, British Columbia – Men and Women are recovering and healing from Alcohol and Drug Abuse at our treatment center here in the Okanagan right now.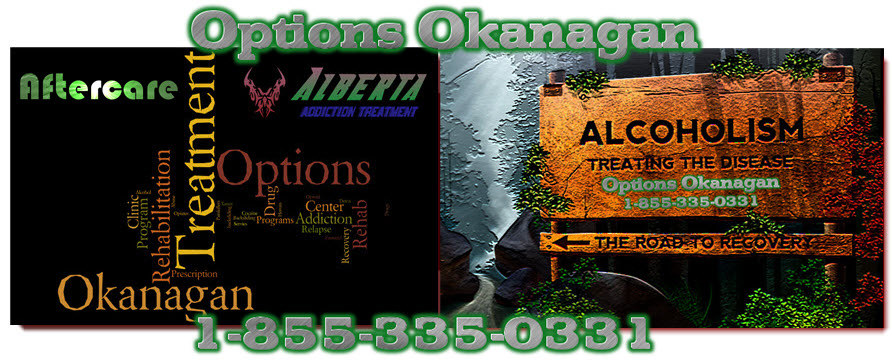 Our unique and distinctive Opiate Drug and Alcohol treatment program allows men and women to come in from Calgary as well as Edmonton as we offer airport pickup.
Numerous clients come to us from Vancouver, Calgary and Edmonton and other locations in Alberta and even other provinces for Opiate addiction treatment, heroin drug treatment, many other drug and alcohol addictions for rehabilitation because of the uniqueness of our treatment center.
Our Treatment Location:
Options Okanagan Drug and Opiate Treatment Center
206 – 478 Bernard Avenue, Kelowna, British Columbia, V1Y 6N7
Toll Free Phone Number : 1-855-335-0331