Alcohol addiction in Alberta: What Are The Consequences Of Alcohol Abuse – Options Okanagan Treatment Centers in Kelowna, British Columbia treating opiate, fentanyl, heroin and alcohol addiction and recovery.
Alberta And British Columbia :: How To Recognize Alcohol Abuse
Many people often underplay the potential impact of abusing alcohol. It can be attributed to the fact that it is a socially acceptable beverage which is readily available in stores, restaurants and numerous other establishments. Therefore, most people always take alcohol whenever they frequent these places or in their homes.
Alcohol is highly addictive and is often associated with numerous health and safety issues. The National Institute on Alcohol Abuse and Alcoholism states that the most common risk of taking alcohol is the development of AUD (Alcohol Use Disorder). If you crave alcohol, you're likely to overindulge and find it hard or impossible to stop altogether. These are the signs that you're actually suffering from AUD. Without intervention and the right treatment, it's hard to quit drinking on your own if you're suffering from AUD.

Another reason why alcohol is often abused is because of role models, guardians and parents. Adolescents and children learn from a very young age that alcohol is actually acceptable and might end up abusing it very early in their lives. It's actual fatal since adolescents abusing alcohol often experience issues with proper brain growth or development. It will cause immaturity and stunted emotional growth as well as numerous other mental disorders such as poor concentration, memory loss and difficulties in solving problems.
In North America, a high number of road accidents can be attributed to alcoholism. Each day, at least 30 to 40 people die from vehicular accidents caused by alcohol consumption. Alcohol abuse will impact your health directly and will also cause long term health consequences that could be fatal or lead to death. Most AUD patients often experience organ diseases such as liver, heart and much more.
Keep in mind that not everyone who takes alcohol will become an addict. There are some risk factors present in people who actually contract AUD. You should beware of self-medication and genetic predisposition. For instance, children whose parents have actually developed AUD are likely to become alcohol dependent in their life. On the other hand, people with emotional or mental disorders often use alcohol to manage their condition and as such are prone to becoming addicted.

You're likely to develop alcohol dependency later in your life if you start drinking from a very young age. For instance, adolescents who take their first drink before they reach 16 years of age might not develop alcohol addiction but will have an increased risk. It's actually something to worry about considering the fact that over 10,000 children start drinking when they are underage.
Getting Treatment For Alcohol Abuse For Alberta And BC Residents
There's one disadvantage of alcohol abuse. For instance, people under the influence of alcohol often believe that they can quit on their own, whenever they choose to do it. However, only a small percentage of people who suffer from AUD can actually do this and very few can actually maintain their sobriety.
Getting treatment for alcohol abuse is the best way for alcoholics to actually become sober and avoid relapsing. You can check out treatment programs at Options Okanagan Treatment Center in BC. Of course, it's not a guarantee that you will actually become successful but these treatment options provide the best rehabilitation from alcohol abuse. Contact the treatment center to speak to an experienced counselor. We are here to help you with your addiction problem!
Options Okanagan Opiate and Alcohol Treatment Centers in Kelowna, Salmon Arm and Vancouver, British Columbia – Men and Women are recovering and healing from Alcohol and Drug Abuse at our treatment center here in the Okanagan right now.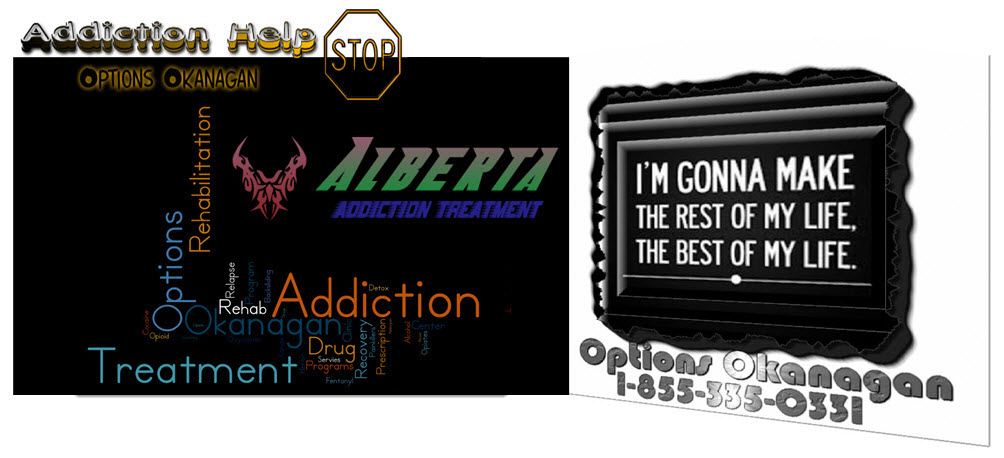 Our unique and distinctive Opiate Drug and Alcohol treatment program allows men and women to come in from Calgary as well as Edmonton as we offer airport pickup.
Numerous clients come to us from Vancouver, Calgary and Edmonton and other locations in Alberta and even other provinces for Opiate addiction treatment, heroin drug treatment, many other drug and alcohol addictions for rehabilitation because of the uniqueness of our treatment center.
Our Treatment Location:
Options Okanagan Drug and Opiate Treatment Center
206 – 478 Bernard Avenue, Kelowna, British Columbia, V1Y 6N7
Toll Free Phone Number : 1-855-335-0331